Birdwatching In Norfolk
Norfolk has the ideal countryside for bird watching.  It has acres of marshes, fens, rivers, wetlands and a long coastline.  Norfolk also has the unique Norfolk Broads which is the largest protected area of wetland in Norfolk.  Discover this area of outstanding natural beauty with its large open shallow broads linked by rivers and navigable waterways with the surrounding reed beds and marshes. It is truly a magnificent place with a wide variety of wildlife and breath-taking scenery.
The Norfolk coastline with its salt water marshes and sand dunes attracts many migrating birds which provide, along with all the native and resident species, a wonderful spectacle throughout the year.
Birdwatching Spots
Stroll through a bluebell wood, wonder at the beauty of a swallowtail butterfly or see marsh harriers soar above the wildlife-rich wetlands of the Norfolk Broads. Cycle through the countryside, take a dayboat or passenger boat trip, so much to do and discover.
The Broads is the UK's largest nationally protected area of wetland. Its rivers, broads (shallow lakes), marshes and fens make it a unique area, rich in rare habitats, which support a myriad of plants and animals. Globally, wetlands are among the most threatened of landscapes. Luckily, the RSPB is protecting huge areas of this habitat in the five nature reserves that you can visit here.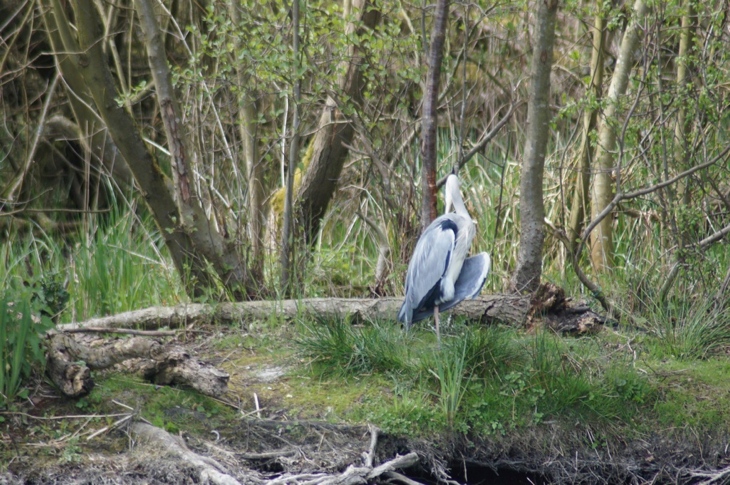 Strumpshaw Fen
You could take a leisurely walk around the reedbeds and woodlands at Strumpshaw Fen, with the chance of hearing 'booming' bitterns, seeing 'sky dancing' marsh harriers and, if you're lucky, encounter a family of otters. In summer look out for the spectacular swallowtail butterfly and Norfolk hawker dragonflies in the orchid-rich meadows.
Families can take part in summer pond-dipping, take out a wildlife spotting sheet, or borrow a wildlife explorers' rucksack with binoculars, magnifying pots and wildlife guides. There's a small charge for visiting Strumpshaw Fen (free for RSPB members).
Buckenham Marshes
Adjacent to Strumpshaw Fen is the wide open expanse of Buckenham Marshes.Visit in winter to see thousands of wigeon, teal, lapwing, and golden plover feeding and flocking on the marshes. Look out for birds of prey, including peregrines, marsh harriers, kestrels and barn owls. In spring watch out for boxing hares in the surrounding fields.
Berney Marshes
If you're keen on wetland birds, why not stop off at Berney Marshes? This expanse of rich wetland is home to thousands of wintering ducks, geese and wading birds. This remote reserve is only accessible by train, boat or foot (no car access). Next to Berney Marshes are the rich mudflats of the Breydon Waterestuary. Join an RSPB boat trip in winter to see huge flocks of birds feeding on the estuary, including avocets, golden plovers, wigeon, redshanks and curlews.
Rockland & Surlingham Marshes
If you simply fancy escaping the city for an hour, Rockland Marsh and Surlingham Church Marsh have short trails where you can enjoy a peaceful walk alongside pools and reedbeds.
The RSPB has a year-round programme of events in the Broads, including guided walks, family activity days and winter boat trips. For an extra special day out, you can also hire a warden for your own tailor-made visit. For more details see www.rspb.org.uk/strumpshawfen
Titchwell Marsh 
The RSPB's Titchwell Marsh offers the unique opportunity to experience some of the UK's rarest wildlife up close.   great day out for all the family with a wide range of guided walks, family events and children's self guided walks too.
Big skies, a fabulous sandy beach and bird-filled reed beds, lagoons and marshes are just a few of the gems tucked away inside Titchwell's treasure trove of natural delights. It's no wonder that this is one of the RSPB's most popular nature reserves and a key tourist attraction on the north Norfolk coast.
Titchwell Marsh offers the unique opportunity to experience some of the UK's rare wildlife up close. It is a great day out for the whole family with a wide range of guided walks, family events and children's self-guided walks.
Experience the marsh harriers soaring over the reedbed, hear the booming call of the elusive bittern in spring, capture a great photo of the water vole family and see the avocet aggressively protecting its chicks.
Visit the information desk for latest news of wildlife on site, explore the gift shop and indulge in a delicious slice of cake or hot food in our inviting cafe.
Titchwell Marsh top things to see:
Spring/Summer Autumn/Winter
Be mesmorised by the sky-dancing marsh harriers
Meet our water vole family as they feed close to the Meadow Trail
Witness the clumsy chick and ducklings following in the trail of their parents
Get up and personal with hundreds of ducks and geese on the freshwater marsh
Welcome the many returning migrating birds
Around the visitor centre is the best place to see the elusive water rail
RSPB Snettistham
In Autumn, RSPB Snettisham nature reserve comes in to its element. Vast skies and acres of gleaming saltmarsh see flocks of thousands of wading birds drawing patterns in the sky.
Further along the coast from Titchwell is a wide sweep of blonde sand – Holkham beach – that is lined by dunes and a belt of tall pine tree woodland, a great place for long walks or short paddles, with much to offer regardless of season.
You can walk from Holkham through the woods to the quay-fronted town of Wells-next-the-sea. An autumn stop here at might see you catch skeins of pink-footed geese flying from there roosting grounds out on the Wash to the fields of north Norfolk where they feed on sugar beet tops.