RAF Airfields in Norfolk during the Second World War
A vital part was played by the Royal Air Force and their other support establishments during the Second World War, especially those fighter and bomber bases located throughout Norfolk. This county and the men and woman based here, were one of the most important front lines of defence and this continued long after WWII ended.  This is a compilation of the principle airfields, the Squadrons and Groups based in them and in most cases the types of airplanes flown from the airfields throughout the War.
So much has been written about the wartime presence within East Anglia, of the American Army Air Force that it easy to overlook the vital part played by the Royal Air Force during the Second World War.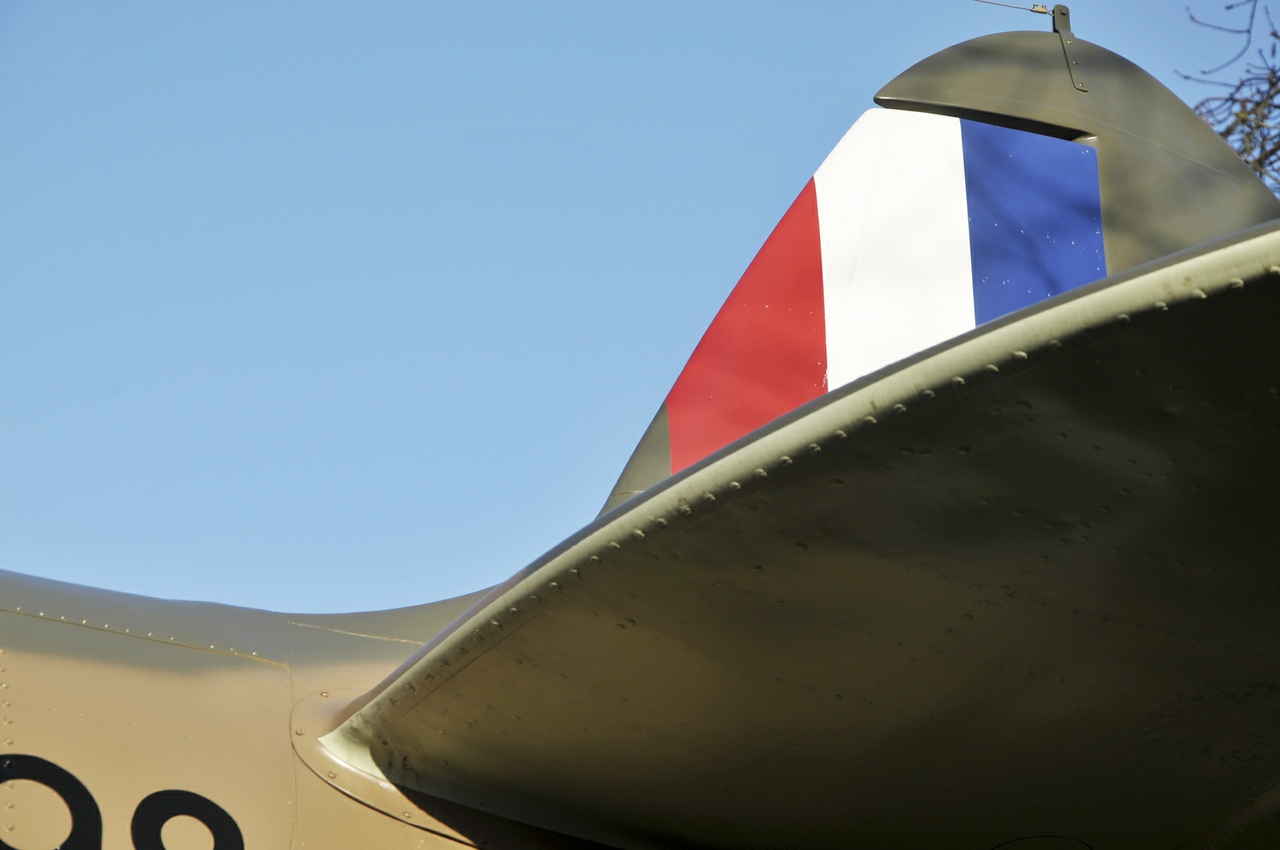 Both fighter and bomber bases were dispersed throughout Norfolk, together with other support establishments. It is not possible to comprehensively list here every RAF group and squadron, or every type of aircraft involved in Norfolk during the Second World War, but there are many excellent publications and websites which do this.
All we are attempting to do, on these pages, is to identify where these RAF wartime bases were located and what their main operational function was. We have not attempted to list each and every air force unit or base activated, only the principal units.
The easiest way to itemise the various RAF wartime bases, and other installations, is to list them alphabetically; starting with :-
ATTLEBRIDGE: If you drive approximately 8 miles north-west of Norwich, you'll find Attlebridge, which was an early wartime station established for the use of the No. 2 Group RAF light bombers. Completed in August 1942 the airfield was first used by No. 88 Squadron RAF from August 1941 to September 1942, flying Bristol Blenheim IVs and Douglas Boston IIIs.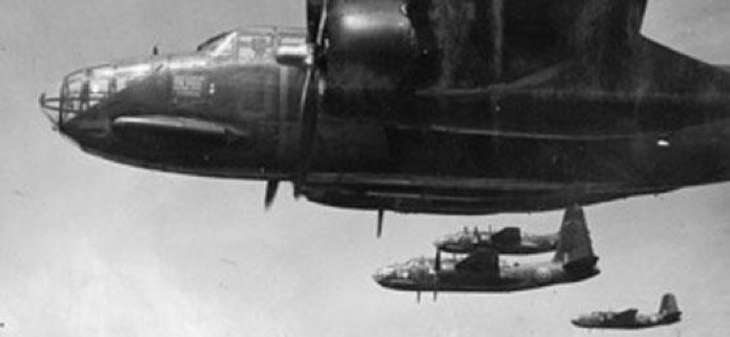 Douglas Boston III
The base was assigned to the United States Army Air Force's (USAAF) Eighth Air Force's 2nd Bomb Wing on 30 September 1942, with the designation as Station 120. It reverted back to RAF use in July 1945 as the 94 Maintenance sub-unit.
The sale of the old airfield started in 1959 and was bought by turkey producer, Bernard Matthews Limited.
BARTON BENDISH: It was sometimes the practice, at the outbreak of the Second World War, for bomber stations to have a satellite airfield. Barton Bendish is one such installation and is situated on the Downham Market to Swaffham road, opposite its parent station, RAF Marham.
Infrequently used by Hurricane trainers from Sutton Bridge it was also utilised by a few Wellington bombers, which were dispersed there. Closed down in 1942, it was just too close to the parent station to be considered worth developing further.
BIRCHAM NEWTON: Located just over 13 miles north-east of King's Lynn, it was a First World War Royal Flying Corps base and home to the largest British bomber of that period, the Handley Page V/1500. It was operational throughout the Second World War as part of No. 16 Group RAF Coastal Command. Twenty-two different RAF squadrons were based there at some point during the Second World War, operating very wide-ranging types of aircraft.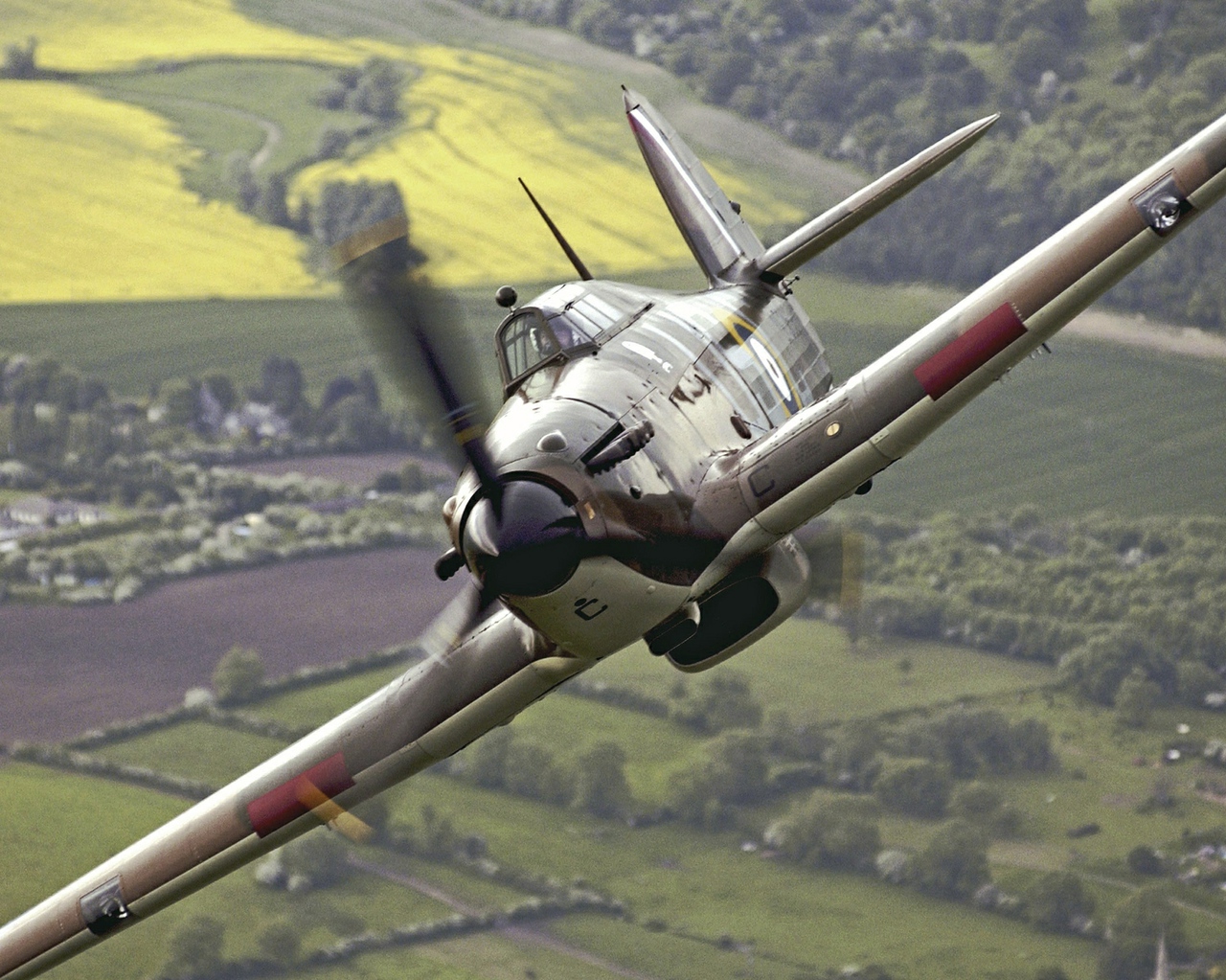 Hawker Hurricane
These include Ansons, Blenheims, Hudsons, Hurricanes, (Hawker Hurricanes were the most numerous and important plane used during the 1940 'Battle Of Britain', responsible for 65% of all German planes destroyed), Swordfish, Vilderbeest, Wellingtons and Whitleys. The base was finally closed in December 1962, but in 1965 the airfield was used for evaluation trials of the Hawker Siddeley Kestrel V/STOL aircraft. It is now the home of the National Construction College (East)
BODNEY: Some 5 miles south-west of Watton is where RAF Bodney became operational in March 1940. It was a satellite field to RAF Watton and was where the Blenheims of both 82 & 21 Squadrons were positioned. Later it was where Hampdens of 61 Squadron left on their bombing missions. The airfield's facilities were improved during 1942 and the base was eventually handed over to the USAAF. After the end of the war the base was handed over by the RAF to the British Army, to become part of the Stanford Training Area.
COLTISHALL: Situated 9 miles north-east of Norwich, it was built in early 1939 as a bomber station. In May 1940 it was designated as a fighter station as part of the RAF's 12 Group Fighter Command. Initially housing Spitfire I's of 66 Squadron, deployed from in June 1940 the Hurricanes of 242 Squadron arrived and were placed under the command of Sq. Ldr. Douglas Bader and it became home to night fighters.
Hurricane
For a while the Royal Navy Fleet Air Arm operated aircraft from the base and between February and April 1945 it was the airfield for No. 124 Squadron, a fighter-bomber squadron flying Supermarine Spitfire IX.HF's. During the war years Coltishall was home to several other RAF squadrons.
Spitfire
At the end of the war the base was briefly given over to Polish squadrons, until they returned home. It continued as a frontline RAF fighter base until its closure in November 2006.
The full history of this famous RAF base is set down in full in Martin W. Bowman's excellent book, details of which can be found at the end  of this feature.
DOCKING: Originally, in 1940, Docking was a decoy airfield for Bircham Newton, when dummy Hudson aircraft were parked and successfully attracted the attention of the German bombers on several occasions. Later dummy hurricanes were similarly used.
At various times during the war the base hosted many RAF and several Royal Canadian Air Force (RCAF) squadrons, including amongst many others Nos 53(RAF), 143(RAF), 206 (RCAF), 235(RAF), 254(RAF), 255 (RAF), 320(RAF), 407(RCAF), 415(RCAF), 500(RAF), 502 (RAF), 521(RAF)and 524(RAF).
A grass airfield, with eight blister hangars and one A1 hangar, was laid out soon after the outbreak of war and the first squadron to operate from there was No. 235 Squadron RAF using Bristol Blenheims.
These were replaced by the Lockheed Hudson. A meteorological observation unit No. 405 Flight of Bomber Command was set up. When Coastal Command took over all the meteorological units this became No. 1401 (Met) Flight and received a greater variety of aircraft, including, Spitfires, Gloster Gladiator biplanes and Hawker Hurricanes.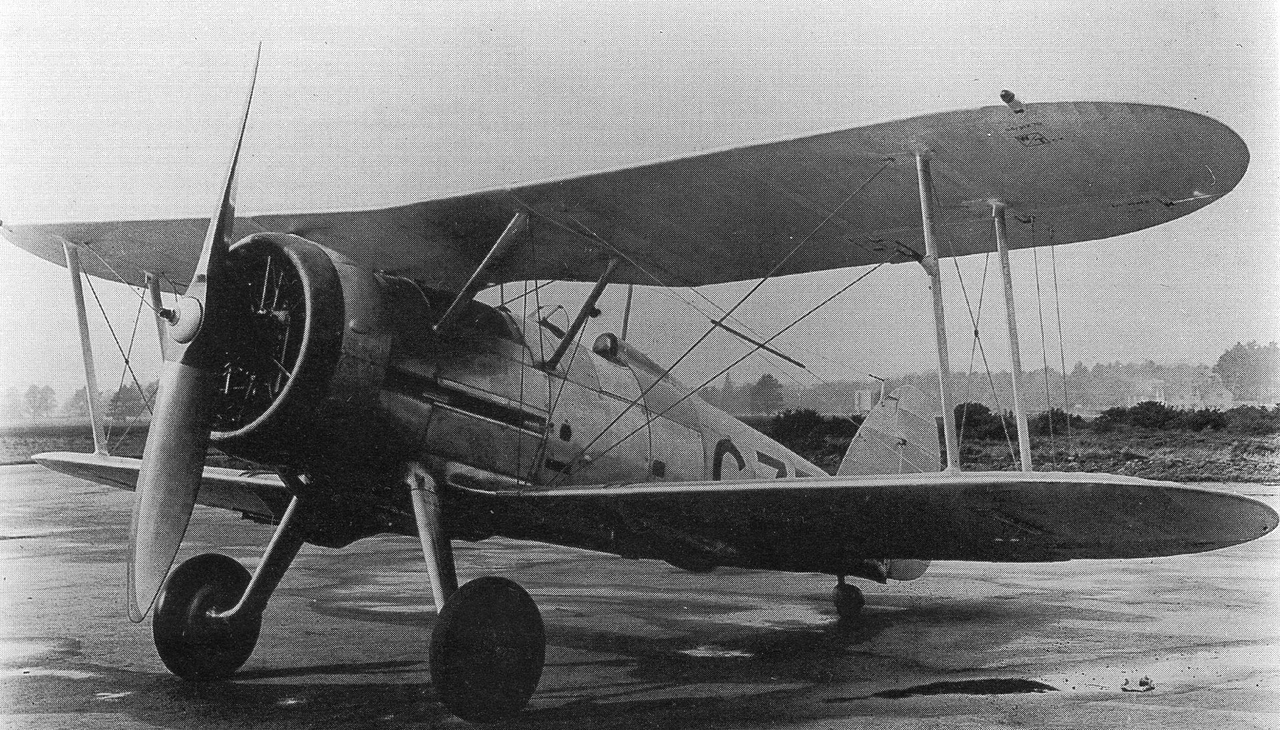 Gloster Gladiator
In August 1942 the Flight was made into a Squadron - No. 521 - with Hudsons Hampdens, Mosquitos and Venturas. Closed in early 1946 the base was sold in April 1958. The remains of the old control tower can be seen on the southern boundary of the old base.
DOWNHAM MARKET: this was a satellite to Marham from 1941 to 1942. July 1942 saw the arrival of 218 Pathfinder Force Squadron and it remained their home base until early 1944, flying various marks of Stirling bombers.
623 Squadron was formed in the late summer of 1943, from elements of the 218, but was disbanded in the December. Various other squadrons came and went between 1944 and 1945 and all flying ended in April 1946. The station was eventually sold into private ownership in early 1957.
EAST WRETHAM: Located 6 miles north-east of Thetford, East Wretham airfield was hurriedly created during the early months of 1940 as a satellite airfield with No. 311 (Czech) Squadron which had been dispersed there from RAF Honington, in late July 1940.
The squadron operated their Liberator bombers from the airfield until April 1942 when it transferred to Coastal Command. From late 1942 RAF Bomber Command's No 115 Squadron operated their Vickers Wellington Mk IIIs, and later Avro Lancasters, from the airfield.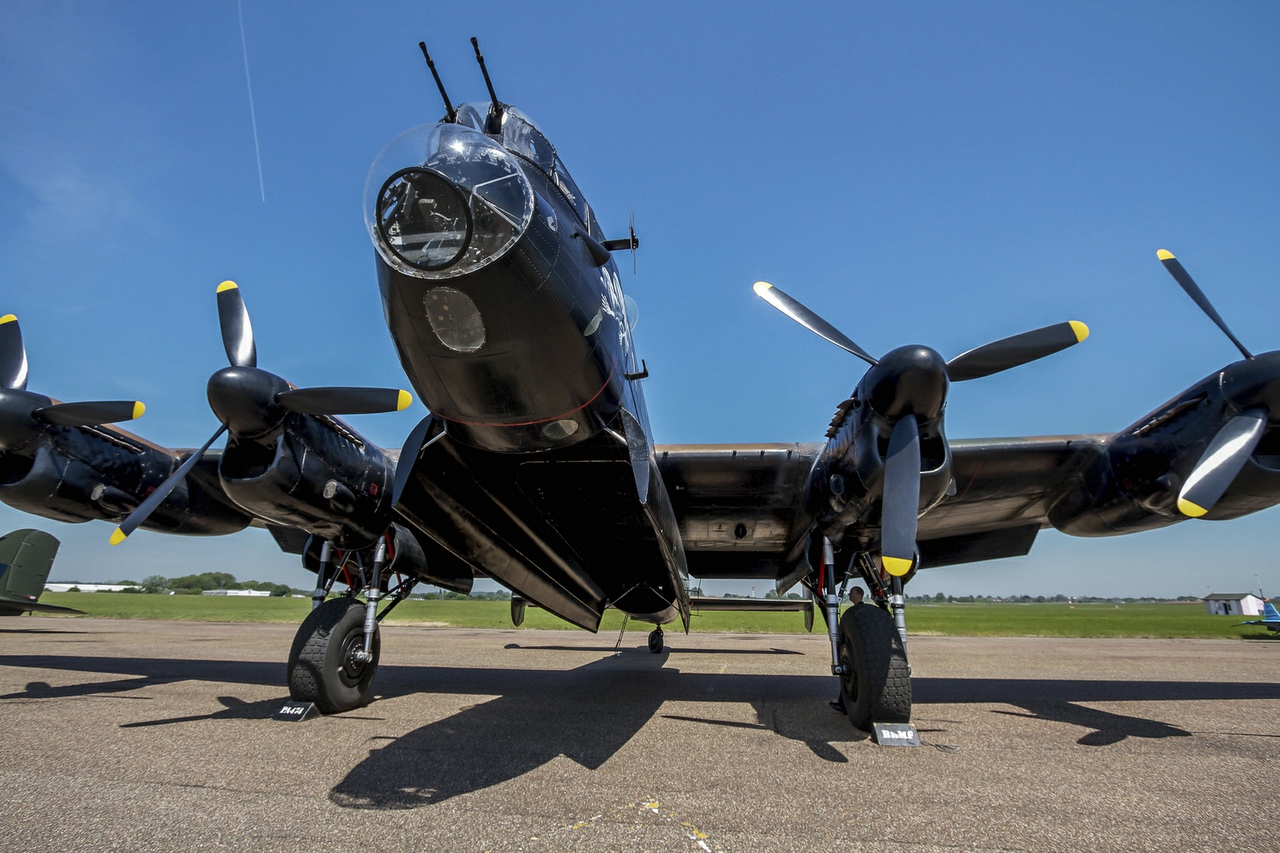 Lancaster Bomber
The intention to turn East Wretham into a "Class A" airfield was not realised and the station turned over to the USAAF for fighter operations. In October 1943, East Wretham was assigned USAAF ( Station 133 ) Vacated by them in November 1945 the base returned to the RAF. Parts of the base were sold off in the autumn of 1954, but the British Army retained a large part of it as part of their Stanford Training Area.
FELTWELL: Located 10 miles west of Thetford, the airfield was built during the late 1930s and is similar in layout to many of the other RAF airfields of the period, (e.g. RAF's Marham, Watton and West Raynham).
It was home to a number of heavy bomber squadrons of the RAF during the Second World War. In late 1939 a New Zealand flight , attached to 75 RAF Squadron, moved in with their Wellington bombers, later to become No 75 Squadron RNZAF, the first Commonwealth Squadron to be formed.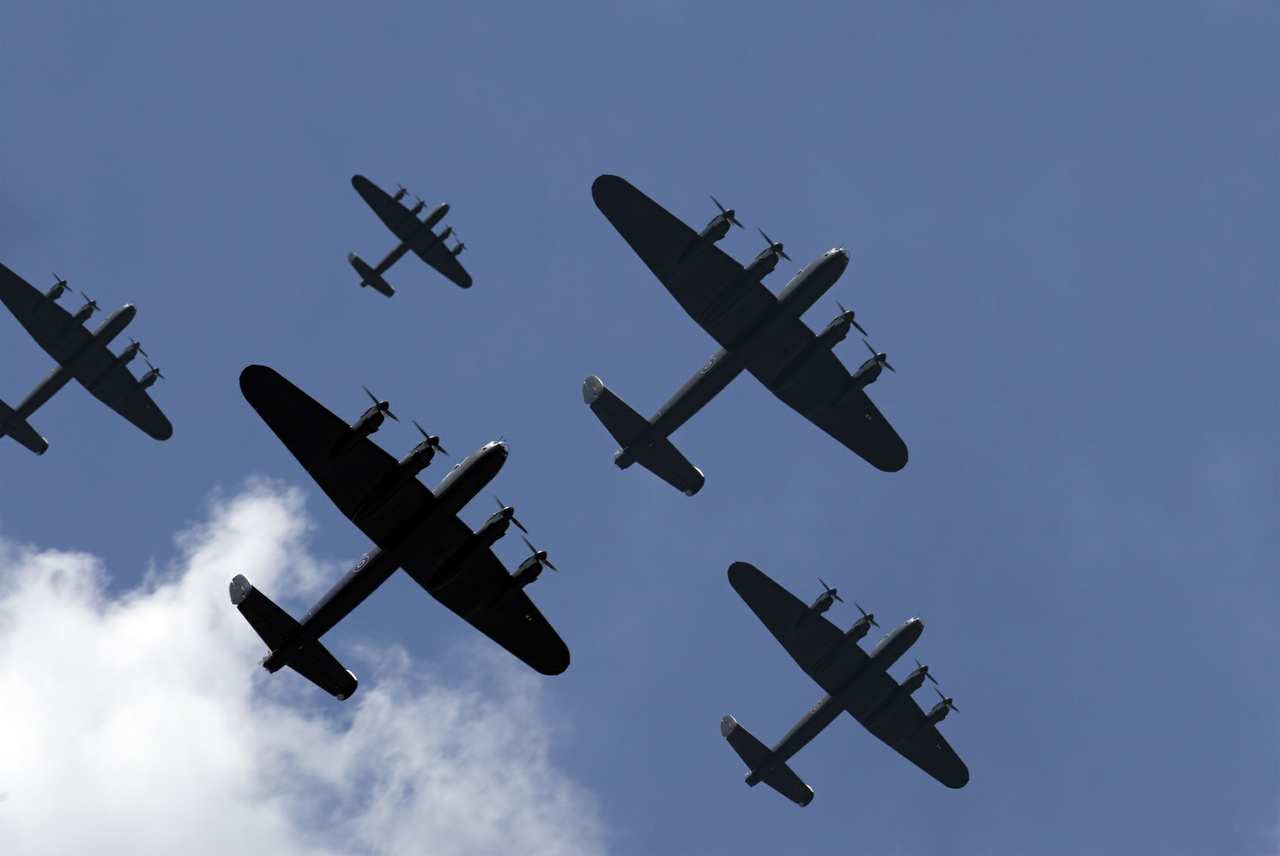 Heavy Bombers
The Wellingtons of 57 Squadron arrived in November 1940. In August 1942 487 Squadron RNZAF arrived at Feltwell, followed in September by the RAAF's 464 Squadron with their Ventura light bombers. In April 1943 the Antipodean squadrons left Feltwell to be replaced BY 192 Squadron RAF with a variety of aircraft including Wellingtons, Mosquitoes and Halifaxes. In September that year 1473 (RCM) Flight arrived with its Wellington bombers.
Halifax Heavy Bomber
After the war Feltwell was transferred the RAF's Flying Training Command between 1946-58. No 77 Squadron RAF was re-formed at Feltwell in 1958 as the first Thor missile base. Eventually closed down by the RAF in December 1966 it was taken over by the USAF the next year.
It is still a USAF base and part of the old airfield now houses the Feltwell Golf Club.
FERSFIELD: Is located 16 miles south-west of Norwich. Built in 1943/1944, the airfield was originally a satellite of RAF Knettishall and was constructed to Class A bomber specifications, with a main 6,000 ft runway and two secondary runways of 4,200 ft.
Accommodation for about 2,000 personnel was in Nissen huts along with an operations block and two T-2 hangars. It was assigned to the United States Army Air Forces in 1942. The airfield is most notable as the operational airfield for Operation Aphrodite, a secret plan for remote controlled Boeing B-17 Flying Fortress and Liberator bombers to bomb German V-1 flying bomb sites and submarine pens.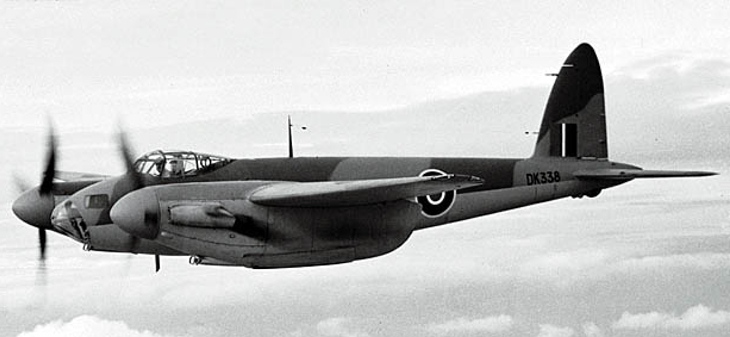 DeHavilland Mosquito
Fersfield was returned to the RAF in late 1944 and bombing operations began in December, using B-25 Mitchells. One of RAF's most secret operations, 'Operation Carthage', was launched from Fersfield on 21 March 1945 to target the Gestapo HQ in Copenhagen. De Havilland Mosquitos from No 21 Squadron RAF, No 464 Squadron RAAF and No 487 Squadron RNZAF made the raid across the North Sea and back. It was ranked as a success in spite of many civilian casualties, including 86 school children.
In April 1946 the airfield was sold and returned to agricultural use.
FOULSHAM: 15 Miles north-west of Norwich, the construction of the airfield began in 1941 was ready for operational use in the late summer of 1942 when it became the home of 98 and 180 Squadrons RAF with their Mitchell B-25 bombers. In early September 1943 the Lancaster bombers of 514 Squadron arrived . Only a couple of months later they moved out when the base became home to the !00 BG, USAAF.
GREAT MASSINGHAM: Located 8.1 miles south-west of Fakenham, and 11.7 miles east of King's Lynn. The airfield was built in 1940 as a satellite airfield of RAF West Raynham and the first aircraft positioned there, in the late summer, were the Blenheims of 18 Squadron RAF.
This squadron left in April to be replaced by No. 107 Squadron RAF. Its aircrew members included such cricketing immortals as England's Bill Edrich and Australia's Keith Miller, together with Kenneth Wolstenholme the famous post-war football commentator. Also based there, for a short while was 90 Squadron RAF with their B-17 Flying Fortresses, but most of their flying was out of West Raynham, which had much better facilities.
B-17 Flying Fortress
In the summer of 1943 342 Squadron RAF arrived with their Boston aircraft., but their stay lasted for only a few weeks. In the later summer of '43 the facilities at Great Massingham were enhanced by the installation of new, extended concrete runways, T2 and other hangers plus new personnel quarters and operational facilities. These improvement works were completed by the spring of 1944.
By the end of the war other units had occupied the base including Squadrons 1694,16,1482 RAF. The airfield closed in 1945, although remained in use for storage until the 1950s.
HORSHAM ST. FAITHS: Located on the outskirts of Norwich, this base was operational as a Royal Air Force station from 1939 to 1963. It was first used by the Blenheim bombers of a detachment of 21 Squadron, based at RAF Watton, during the last two months of 1939.
The Spitfire fighters of 19 Squadron arrived and included amongst its aircrew members was the legless pilot , then Flying Officer Douglas Bader. In May 1940 they were joined by 66 Squadron, also with their Spitfire fighters. In late May both squadrons had departed Horsham St. Faiths, 19 repositioned to Duxford, whilst 66 made the short hop to nearby RAF Coltishall.
In June 1940 the base became officially operational when 114 Squadron moved in to be joined by 139 Squadron, both squadrons flying Blenheim bombers. 114 did not stay for long and in August, they departed for their new home at RAF Oulton. Six months later, in February 1941, a detachment of Blenheims, from 110 Squadron arrived at the base. 139 left between May-June, one detachment going to Malta and the rest of the squadron relocating to RAF Oulton. They returned in October, but left again in the December.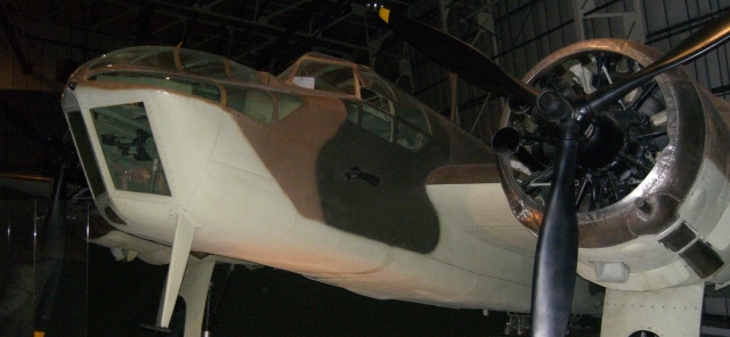 Boston Blenheim
They were immediately replaced by the Blenheims and Mosquitoes of 105 Squadron. In June 1942 a new Mosquito squadron, No. 139, was formed at the base using some elements of 105. Both 139 and 105 left Horsham St. Faiths at the end of September 1942, for RAF Marham, to make way for the USAAF and the base remained as a 2nd Air Division base for the remainder of the war.
It reverted back to the RAF in July 1945 and for three years between 1960-63 was the home to the famous Battle of Britain Historic Flight with its legendary Hurricanes and Spitfires. Deactivated in 1967 in 1969 the base became what is now Norwich International Airport.
LANGHAM: Located 15 miles north-west of Norwich, Norfolk, was established in 1940, initially to be used as an emergency grass-landing, emergency airfield. It was the most northerly of the Norfolk wartime RAF airfields, being only just over 3 miles from the North Sea at Blakeney.
In 1941 it became the satellite airfield for Bircham Newton as a Coastal Command dispersal site. The airfield was originally equipped with three grass runways, but the station became independent in 1942, when it was upgraded with concrete runways, perimeter track and hard-standings.
A wide variety of aircraft flew out of the base during the war years, including Hawker Henleys, Fairey Swordfish of 819 Squadron, Mustangs of 2 Squadron, Tomahawks of 251Squadron, Ansons and Hudsons of 280 Squadron, Beaufighters of 455 Squadron (RAAF) and 489 Squadron (RNZAF), Barracudas of 827 Squadron, Wellingtons of 324 and 612 Squadrons, Gladiators, Hurricanes and B-17 Fortresses of 521 Squadron.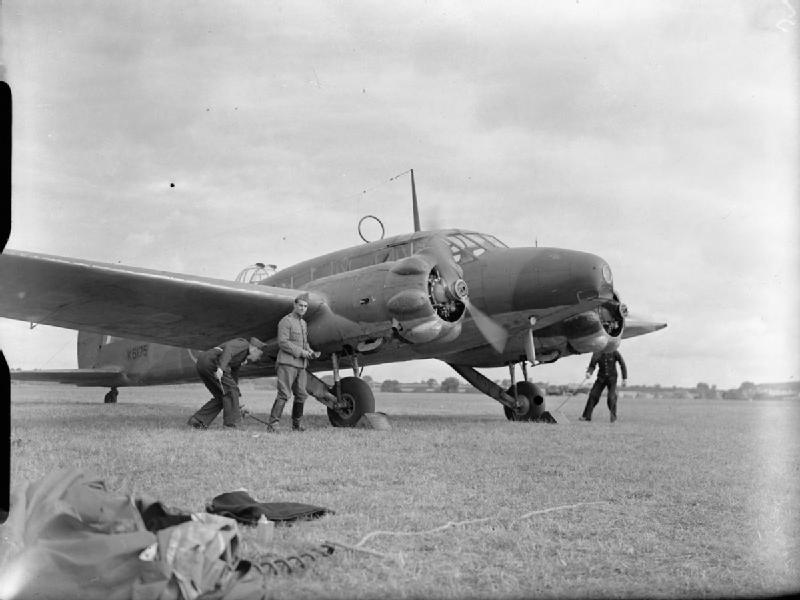 Avro Anson
In 1947 the station was placed into care and maintenance, but it was reactivated during the Korean War. It was later used as an emergency landing strip for RAF Sculthorpe, before final closure in 1961, with the land returning to its pre-war agricultural use.
LITTLE SNORING: Located just north of the village of Little Snoring, the airfield still remains open for general aviation use as Little Snoring Airfield. Its wartime construction commenced in the late summer of 1942 and was completed in July the following year, when it became a satellite station to RAF Foulsham.
During the war years it was home to the Mosquitoes of 23, 141 and 515 Squadrons, the Lancasters of 115 Squadron and the 1678 heavy conversion flight.
LUDHAM: It was created in November 1941, as a satellite airfield to RAF Coltishall, to supplement the parent base's then existing satellite base at Matlaske.
It was Norfolk's most easterly airfield and the short hop to the coast made it a perfect establishment for maritime support and home to the Spitfires of sections of 152 Squadron, which had their home base at Swanton Morley.
The Spitfires of 19 Squadron moved in during December that year. They left in the spring of 1942 to be replaced by the Spitfires of 610 Squadron, commanded by Sqdn. Ldr 'Johnnie Johnson who became an RAF legendary fighter ace.
HM King George VI and Queen Elizabeth visited the base in late January 1943. That same year Ludham was used as a practice bombing range! The Typhoons of 195 Squadron moved to Ludham in May 1943 and for a few days in the summer of '43 the Spitfires of 611 Squadron 'squatted' at the base.
In the early months of 1945 the Spitfires of both 602 and 603 Squadrons. They stayed but a couple of months before being replaced by 91 Squadron's Spitfires.
In 1954 Ludham village and nearby Hickling Broad were used as the location for the film Conflict of Wings. RAF Horsham St. Faiths was used as a location for the flight sequences, involving Vampire and Swift aircraft.
MARHAM: First became operational in 1916. After the First World War the base was expanded in preparation for its role as a front-line Second World War facility. In June 1939 the Wellington bombers of No1 RNZAF unit arrived, but moved on the RAF Harwell just before the war started, to be replaced by the Wellingtons of 115 Squadron. In December 1940 Wellingtons, this time belonging to 218 Squadron, also made Marham their home base.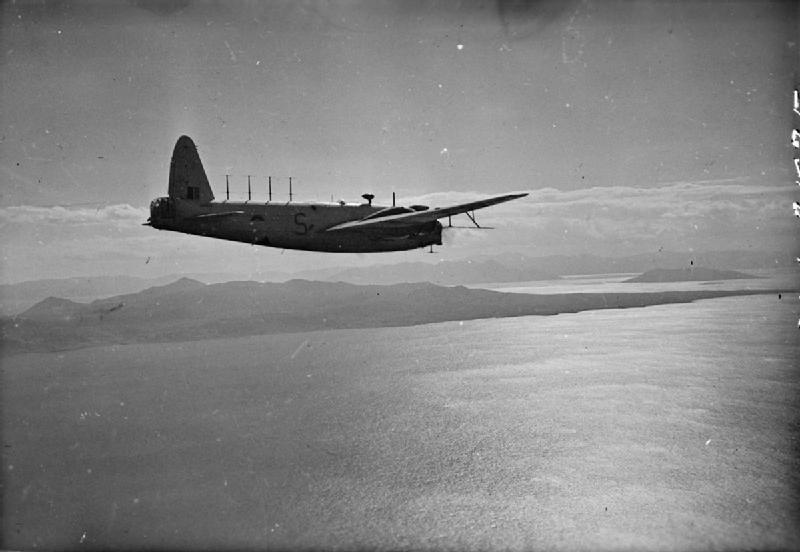 Wellington Bomber
During the first couple of months of 1942 the Wellingtons of 218 Squadron were replaced by the four-engine Short Brother's Stirling, heavy bombers. In the autumn of that year the base transferred from5 Group to 2 Group RAF, when the Mk IV Mosquitoes, of 105 and 109 Squadrons, moved in having transferred from Horsham St. Faiths.
In June 1943 the base came under the control of No 8 Group and in March 1944 both squadrons moved on when the base closed for the installation of new runways and support installations. That was the end of wartime operations for Marham, but in January 1946 flying operations resumed and have continued to this day with RAF Marham being one of the UK's foremost, frontline bomber stations.
MATLASKE: There was an airfield at Matlaske before the war started but it was approved for requisition by the Air ministry in August 1939. RAF Matlaske became operational in October 1940 as a satellite station to RAF Coltishall, which is just over 11 miles south-east of Matlaske.
In 1940 the airfield had two grass runways, one being 1,600 yards, the other 1,300 yards long. Its first 'tenants' were the Spitfires of 72 Squadron, but they departed the base in early December to be replaced by the Spitfires of 222 Squadron, who detached from RAF Coltishall.
222 Squadron stayed until late June 1941 and the next month were replaced by 601 Squadron with their Hurricane fighters. They stayed for only a few weeks before handing the base over to the Spitfires of 19 Squadron who were based there until December that year.
In early September 1942 Matlaske was given over to the USAAF 8th Air Force and became their fighter base, Station 178. Subsequently, at various times, during the remaining war years, Matlaske was, in addition to the above named RAF squadrons, home to Nos. 3, 19, 56, 65, 118, 122, 137, 195, 229, 245, 266, 278, 412 (RCAF), 451 & 453 (RAAF), 485 (RNZAF), 486, 602, 609, 611, Squadrons. Flying from the base ceased in April 1945 and the base was closed in October that year.
OULTON: Located 3 miles west of Aylsham and 12.5 miles northwest of Norwich, the Airfield was requisitioned by the RAF in 1940 and became a satellite landing facility for Horsham St. Faith, between July 1940 and September 1942, after which it operated as a satellite airfield of RAF Swanton Morley.
RAF Squadrons 114,18 &139 flew Blenheims from here, as did 1428 conversion flight, with its Hudsons and 236 Squadron with their Beaufighters. The Bostons of 236 and the Bostons of 88 Squadron were also based at Oulton, as were the B-17 Flying Fortresses of 1699 Bomber Support Flight, 214 & 223 Squadrons. The 803 Squadron (USAAF) were also temporarily based at Oulton between May and August 1944.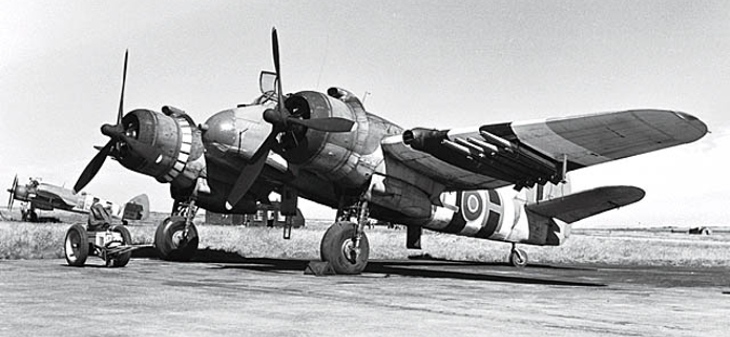 Bristol Beaufighter
SCULTHORPE: Situated about 3 miles west of Fakenham the airfield has been home to many visiting airmen and support crews of both the RAF and the United States Air Force. It became operational in January 1943 and initially hosted the French-flown Bostons of 342 'Lorraine' Squadron.
In July it was superseded by the Venturas of 487 Squadron ( RNZAF), 464 Squadron (RAAF) and 21 Squadron (RAF). In October the first two of these squadrons converted to Mosquitoes, followed by the 21 Squadron a month later.
The reformed 214 Squadron RAF arrived in January 1944 converting to B-17s, with an RCM roles in the USAAFs 100BG. The Americans stayed on at Sculthorpe till 1992, but, whilst retaining the airfield, in 1997 the Ministry of Defence sold the entire technical, domestic and administrative site including the married quarters site, previously occupied by the USAF, to The Welbeck Estate Group.
SWANTON MORLEY: Located 18 miles north-west of Norwich and only 3 miles from Dereham, the base originally opened in September 1940, as part of 2 Group Bomber Command. Blenheim IV light bombers of 105 Squadron were its first occupants, before moving to Horsham St. Faiths in December 1941; they were replaced by 226 Squadron. During July and August, the Blenheims of 88 Squadron operated from the base.
August 22nd 1941 saw the arrival of the Spitfire IIs of 152 Squadron and in June '42 226 Squadron played hosts to the crews of the A-20s of the 15th Light Bombardment Squadron (USAAF).
They were the very first American unit to arrive in England and to join the Allied aerial offensive. The first American crews saw action, rather symbolically, on the 4th July when they crewed six of the RAF's A-20 Bostons of 226 Squadron, on airfield attacks over Holland. April '43 saw 88 Squadron return to Sculthorpe, this time with Boston bombers.
From late November '43 to February '44 No 3 Squadron's Typhoons were stationed at the base. In February '44 No 226 Squadron, now flying Mitchel II bombers, departed the base to move to Hartford Bridge to prepare for the forthcoming invasion of Europe.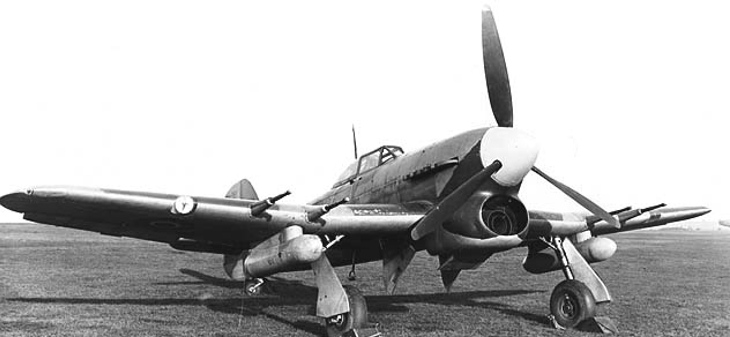 Typhoon
In March and April Boston and Mitchell bombers and Mosquito crews of 464 Squadron (RAAF) and 487 Squadron (RNZAF) moved to Swanton Morley. For the remainder of the war the base hosted several and varied units and types of aircraft. From June 1953 to 1995, when it closed, the station was also used by 611 Volunteer Gliding School. The station was converted to an Army base, now known as Robertson Barracks.
WATTON: First became operational in February/March 1939, before the outbreak of war. With its grass run ways and C-type hangers it became home to nos. 21 and 34 Squadrons, flying Blenheim I bombers. In August '39, 82 Squadron arrived with its Blenheim bombers.
This squadron suffered its heaviest wartime losses on 17 May '40 when 12 bombers left the base, for an attack on Gembloux, but only a single Blenheim returned to Watton, the others all having been shot down. The next month 21 Squadron left for Lossiemouth, to be replaced by the Blenheims of 105 Squadron. No 21 Squadron returned to Watton in the October.
For a brief period, during May 1941 No. 90 Squadron was re-formed at Watton, equipped with B-17C day bombers and later moved over to West Raynham. 21 Squadron left in December 1941, for Malta. 82 Squadron departed in March 1942, for India.
In late 1943 the base was taken over by the USAAF who remained there until the end of the war and in the summer of 1945 the RAF took back the base and the last of its flying units left in May 1969.
WEST RAYNHAM: Officially opened in April 1939 and in May No 101 & 90 Squadrons arrived with a complement of Blenheim I and IV bombers. Both squadrons stayed only a few months, until September, when they were deployed to other bases out of Norfolk. 1012 were only gone a few days before returning to become No 2 Group's training squadron.
In late April 1940 No. 76 Squadron was formed at the base, flying Ansons and Hampdens, but was disbanded in late May. In late May No 139 Squadron arrived, but were quickly replaced, 10 days later by No, 18 Squadron with its various marks of Blenheims. Their stay was also short and they departed Watton on the September. No. 90 Squadron returned to Watton in early May 1941, now flying Boeing Fortress I bombers.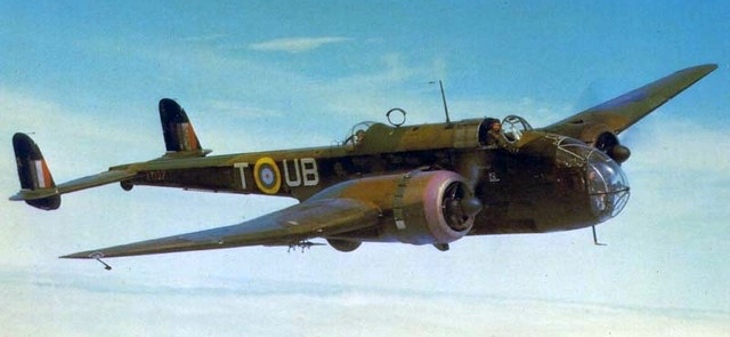 Hampden
By late May they had moved on the Great Massingham. No. 101 Squadron moved to Oakington in the first week of July 1941, to be replaced by the Blenheims IVs of 114 Squadron. Later that month 1420 Flight was deployed to Watton, but was disbanded only four months later, in the November.
In April 1943 No 342 Squadron was reformed at the base, crewed mainly by Free French Airforce airmen. No. 100 Bomber Support Group arrived in the first few days of December 1943 and flew Mosquitoes from there until the war's end. The station closed in June 1994.
WEYBOURNE: Used by the army from the mid-1930s, Weybourne had varied activity going on during the war years. This included things such as a catapult built on the top of the adjoining cliff for use with associated target drones, which were radio-controlled sea and land plane variants of the versatile Tiger Moth light aircraft. These flew along the coast and provided target practice for the gunners.
During February 1941the 'Queen Bee' target drones of 'T' Flight AACU were based at Weybourne. From June 1941 these drones were target practice for the rocket projectiles and light anti-aircraft guns. 'T' Flight was disbanded at the end of April 1942 and all flying activity had stopped at the base by July that year. The base was finally closed in 1958 and is now the site of a comprehensive military museum and well worth a visit.
For the definitive tome on this subject we recommend that you read an excellent publication by Martin W. Bowman, titled 'World War II RAF AIRFIELDS IN NORFOLK'. It was first published by Pen & Sword Aviation, of Barnsley, in 2007. In his excellent book Martin imparts just about all you could ever wish to learn on the subject. We readily acknowledge that it has been an extremely helpful reference aid to us in producing this element of this website.
Please do not hesitate to let us know of any possible errors, or major omissions in the following text, so that we might make the necessary corrections.
Article written by Ray Cossey, a great enthusiast.