The Norfolk Dog Guide
Exploring Norfolk with your Dog. A guide to everything Dog Friendly in Norfolk, What to do, Where to go and How to find it.
Being a dog owner and lover myself, I know how important it is to find your furry friends different places to explore and stretch their paws.
Living in the Norfolk Countryside there are many different places you can take your dogs, with a wide range of walks available you are sure to find something that you and your pet will love. I have a few favourites and some days you hardly see anyone else around - I guess that's the beauty of Norfolk.
From dog friendly beaches, woodlands, heathlands and safe rural footpaths to dog friendly pubs, accommodation and boat hire. You will be truly surprised how much Norfolk has to offer.
Please be aware if you are taking your dogs on boats to make sure they wear a life jacket for their own safety and your own peace of mind.
Below is a list of some of the Dog Friendly Beaches in Norfolk - Some restrictions apply in the summer months :
*Gorleston Beach
*Sea Palling
*Mundesley Beach
*Bacton Beach
*Horsey Beach (Home of the famous seals)
*Holkham Beach
*Brancaster Beach
*Heacham Beach
*Hunstanton Beach
*Holme Beach
*Thornham Beach
*Titchwell
*Wells-Next-The-Sea
*Sheringham Beach
*Weybourne Beach
*West Runton
*East Runton
*Cromer Beach
*Overstrand
*Waxham Beach
*Scratby Beach
*Caister Beach
*Happisburgh
Try to deter your dogs from eating anything they find on the beach.  Dead shellfish can be very toxic!
Many of the beaches play host to the seals.  If you see them sunbathing, keep your dogs away from them and on a lead - seals are very aggressive especially with pups around.
Watch out for ;the sand, it can reach temperatures hot enough to burn paws.
Here are the boys enjoying Mundesley Beach. As you can see from the picture Gizmo thinks it's a brilliant idea to collect the stones and rocks as presents for myself, the tricky part is getting them off him before leaving the beach.
Below is a list of some Country, Parks and Woodland walks in Norfolk :
*Whitlingham Broad
*Sandringham Country Park
*Holt Country park
*Thetford Forest
*Peddars Way
*Barrow Common
*Sheringham Park
*Bacton Woods
*Blickling Estate
*Norfolk Coastal Path
*North Burlingham Woods
*Earlham Park
*Eaton Park
*Salhouse Broad
*Mousehold Woods
* 
FACT: It is a myth that dogs are colour blind. They can actually see in colour, just not as vividly as humans. It is akin to our vision at dusk.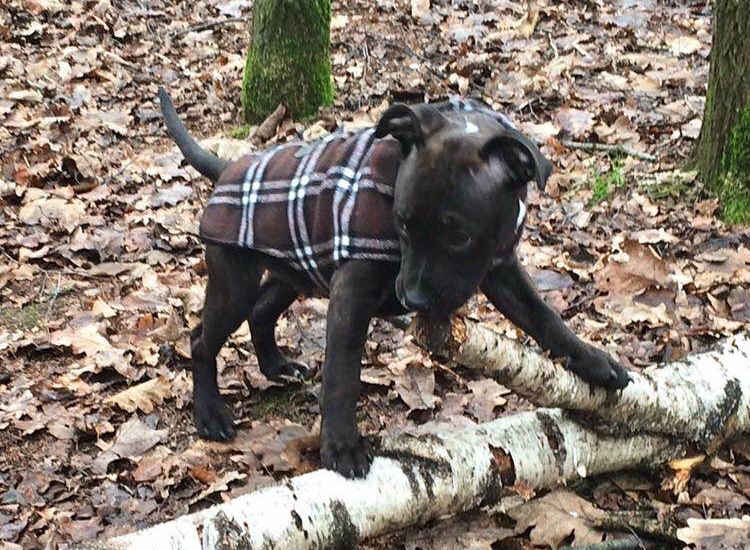 Gizmo at Mousehold Woods, one of his first ever walks as a puppy. He enjoyed running through the woodland fetching sticks - not too good at bringing them back though.
Dog friendly Pubs include :
*The White Horse (Overstrand)
*The Jolly Sailors (Brancaster Staithe)
*The Ship Inn (Weybourne)
*The Huntsman (Strumpshaw)
*The Bell (Salhouse)
*The Victoria Inn (Holkham)
FACT : It has been established that people who own pets live longer, have less stress, and have fewer heart attacks.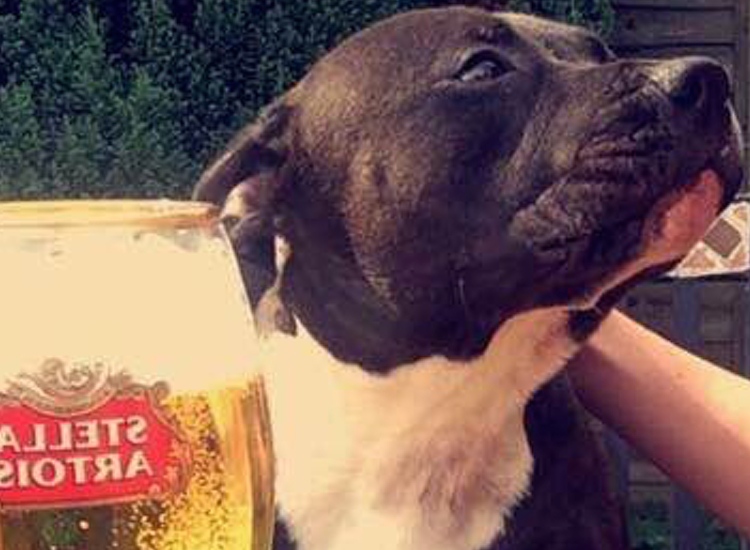 Gizmo enjoying the beer garden at The Huntsman. He believes he is human and that the chairs provided are for him to sit on.
There are plenty of dog-friendly places to stay in Norfolk, for more information just click on the links below
Pet Friendly Self Catering Accommmodation
Pet Friendly Bed and Breakfast Accommodation
Pet Friendly Hotel Accommodation
Looking to Pamper your pooch in Norfolk? Check out:
*Pampered Pooches (Swaffham)
*Pink Paws (Wroxham)
*CK9 (Kings Lynn)
*Dapper Dogs (Norwich)
*ABC Grooming (Thetford)
*Greenfields Grooming Parlour (Downham Market)
FACT: Ideally, dogs should have their teeth brushed daily, but at least twice a week may be more realistic.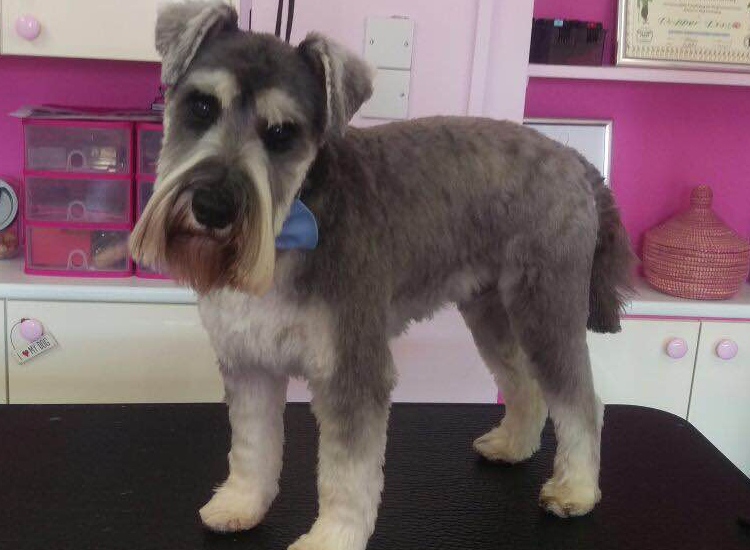 Moose with his fresh cut from Ben Brightmore at Pink Paws, Wroxham. Always comes home smelling beautiful with an added bow for decoration. Handsome Chappy.

Accommodation for you and your dog include:
*The Cliftonville Hotel (Cromer)
*The Hoste (Burnham Market)
*The Norfolk Mead Hotel (Coltishall)
*Beechwood Hotel (North Walsham)
*The Pheasant Hotel (Kelling)
*Titchwell Manor (Brancaster)
*The Crown Hotel (Wells-next-the-sea)
*Wayford Bridge Inn (Stalham)
*Prom Hotel (Great Yarmouth)
*Caley Hall (Old Hunstanton)
*Congham Hall (Kings Lynn) 
FACT : Most dogs will generally circle round and round, nesting before they finally lie down. This is because their ancestors used to flatten tall grass down to make a bed before lying down.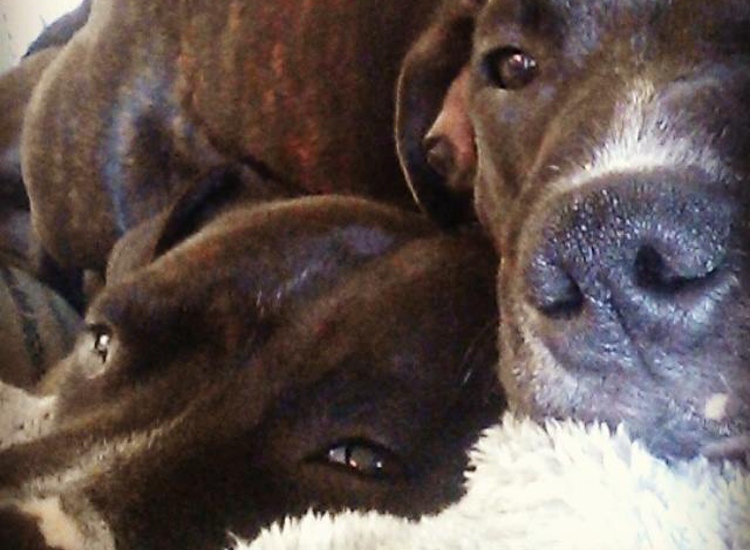 Time for a nap Zzzz.. The boys love nothing more than to curl up together for a cuddle.. Shame its always on my bed and never their own.
For all your Pet Essentials. Dog food, treats, toys, bedding and much more:
*Wagtails Pet Shop (Aylsham)
*Jurassic Bark (Downham Market)
*Pets at Home (Norwich)
*The Giant Pet Store (Norwich)
*Myhills Pet Store (Diss)
*Pets Corner (Wymondham)
*Posh Pets (Holt)
*Picky Pets (Fakenham)
*Mutleys Pet Supplies (Swaffham)
Gizmo enjoys a raw carrot as a treat now and again, they keep his teeth healthy and are a good replacement for chewing.
FACT: Dogs eyes contain a special membrane, called the tapetum lucidum, which allows them to see in the dark.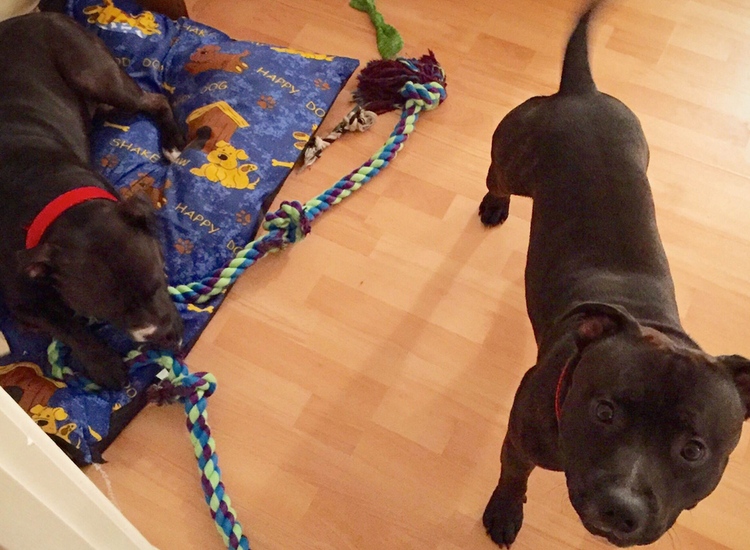 The boys playing with their new rope toy from Pets at Home. I would like to say they still have this now, but Deano would rather his toys be in pieces.

Looking for a Vet in Norfolk? Please see below:
*Taverham Vets (Norwich)
*Broadland House Vets (Stalham)
*Acle Veterinary Clinic (Acle)
*Mill House Vets (Kings Lynn)
*Bridge Vets (Wroxham)
*Summerhill Veterinary Centre (Fakenham)
FACT : A Dog's sense of smell is 10,000 – 100,000 times more acute as that of humans. 
I hope this Guide has been of help to all you dog owners out there, and has provided you with more ideas, information and adventures for you and your pet to enjoy together.
Remember a dog is the only thing in the world that will love you more than they love themselves - So go ahead and treat them to all that Norfolk has to offer.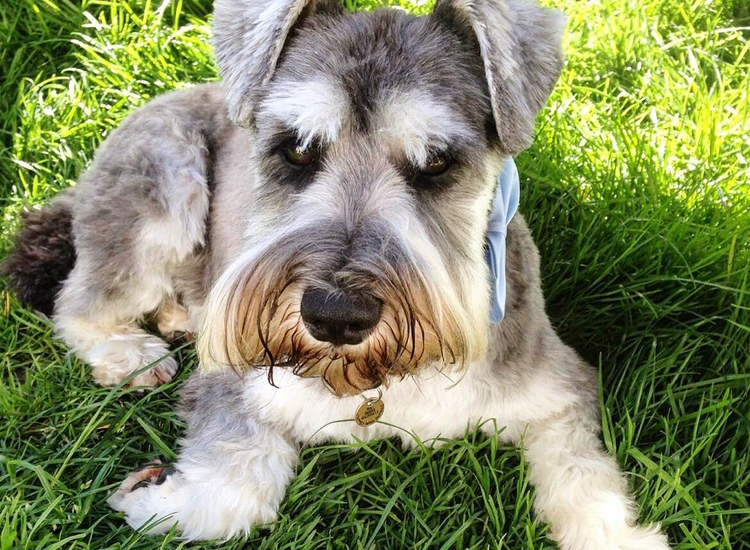 Moose cooling off in the shade after being chased around the garden with my mums' new slippers in his mouth... Must be her 6th pair by now.